A300 Active Speaker
Continuing our legacy in consumer and professional audio products, our brand new Airpulse A300 powered speakers combine reference monitor sound quality and timeless retro styling.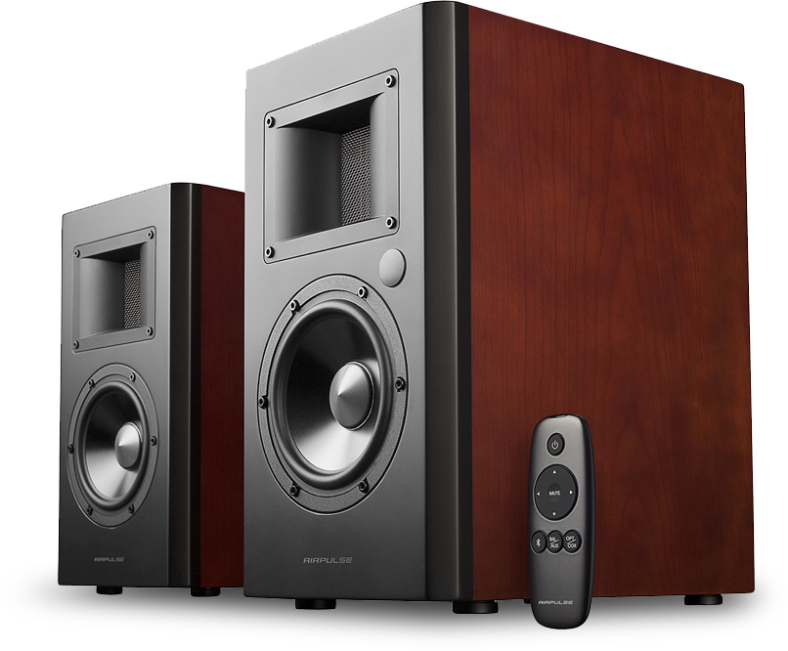 Guided by our design philosophy of achieving perfection through simplicity and efficiency, a considerable amount of research time was spent on the design and selection of components and sub components in the A300. Cabinet construction, speaker drivers, amplifier circuitry and wires used were researched, tested and re-tested to ensure that combined, the final product would perform impeccably.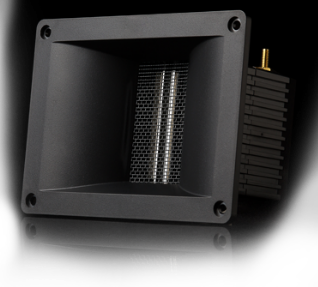 Horn Loaded Ribbon Tweeter
The A300 horn loaded ribbon tweeter inherits the mechanism of the tweeter in our flagship 7001 near field monitor. The thin aluminium ribbon diaphragm has high sensitivity, superb transient response, extended frequency range and well defined resolution. A 65mm length and 0.12mm thick aluminium ribbon placed between the two large neodymium magnets. Electric current feeds through the ribbon so that it functions like a coil in a conventional loudspeaker. At the same time, the ribbon also acts as a diaphragm as it moves air. The combination of these two functions give the ribbon tweeter high efficiency and great transient response without delay.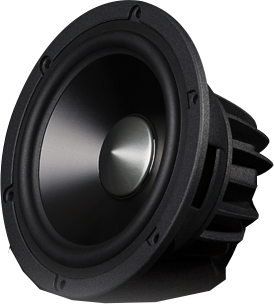 6.5" Aluminium Cone Low Distortion Mid-Woofer
The Mid-woofer is a powerful 6.5 inch unit with a hard anodized aluminium alloy cone suspended in a heavy duty, ultra rigid cast magnesium alloy frame. It features an underhung motor structure with a high gauss Neodymium magnet and a 50mm diameter edge-wound copper clad aluminium ribbon voice coil to gain maximum linear excursion and control. This structure also reduces the weight of the driver allowing the speaker to have a very fast transient response as well as total loss-modulation distortion.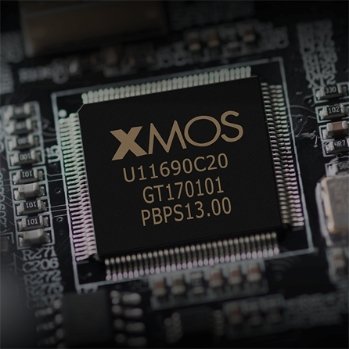 Full digital amplifier
Similar to the A200, the amplifier of the A300 Is composed of three pieces of TAS5754 Class D amplifiers from Texas Instruments. Two are connected in parallel bridge mode to drive the left and right woofers, while one is connected in bridge mode for the two tweeters. Not like normal Class D amplifiers, these amplifiers feature closed-loop structure with even lower distortion. Its digital input accepts signals with up to 192KHz sample rate. Its hybrid-flow digital processing enriches the system's processing capabilities even more.
Other Features

A 16-core Audio Processor based on XMOS xCore200 architecture

Ultra-Low Distortion Signal Processing And Amplification System

Internal Wiring Made By Transparent

Two Digital Inputs Support up to 192kHz

Two Analog Inputs with High Quality ADC

Qualcomm's Bluetooth V5.0 chipset CSR8645
Specifications
L/R(Treble):10W+10W, L/R(Woofer): 70W+70W
Horn Loaded Ribbon Tweeter
6.5inch Aluminum Cone Underhung Design Neo. Power Mid-Woofer
AUX, Balance Input, USB, Optical, Coaxial, Bluetooth.
AUX:700±50mV Balance:1150±50mV, USB:550±50mFFs, Optical:500±50mFFs Coaxial:500±50mFFs Bluetooth:500±50mFFs
Digital Amplifier With Xmos Processor